A
wall kitchen faucet
is a type of faucet that is installed onto the wall above the kitchen sink rather than onto the countertop. This type of faucet has become increasingly popular in modern kitchen design due to its sleek appearance and functional benefits. In this essay, we will explore the features and advantages of wall kitchen faucets.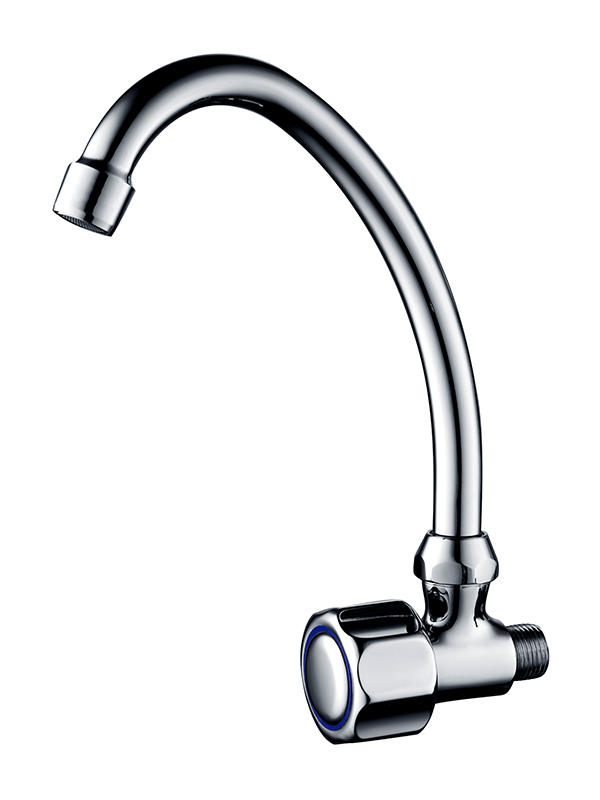 One of the main benefits of a wall kitchen faucet is its space-saving design. Since the faucet is installed onto the wall, it does not take up any valuable counter space, which can be particularly beneficial in smaller kitchens. This also allows for greater flexibility in the design of the kitchen, as the sink can be placed wherever it is most convenient rather than being limited by the placement of the faucet.
Another advantage of a wall kitchen faucet is its versatility. Wall-mounted faucets can be installed at any height, which makes them ideal for homes with different family members of varying heights. They can also be paired with a variety of sink styles, from traditional farmhouse sinks to modern undermount sinks.
In terms of design, wall kitchen faucets are available in a wide range of styles and finishes. From sleek and modern to more traditional and ornate designs, there is a wall-mounted faucet to suit every taste and kitchen design. The finish of the faucet can also be chosen to match other kitchen fixtures such as cabinet hardware and light fixtures.
Functionally, wall kitchen faucets offer a number of benefits as well. They can be easier to clean than traditional countertop-mounted faucets, as there are no grooves or crevices where dirt and grime can accumulate. They also often have longer spouts, which can make them more convenient for filling large pots or washing oversized items.
Wall kitchen faucets can also be a great choice for people with disabilities or limited mobility. Since the faucet is mounted onto the wall, it can be installed at a height that is comfortable and accessible for the user. Additionally, many wall-mounted faucets have lever handles rather than knobs, which can be easier to operate for people with arthritis or other hand mobility issues.
Installation of a wall kitchen faucet can be more challenging than installing a traditional countertop-mounted faucet. Since the plumbing will need to be installed within the wall, it is important to ensure that the installation is done correctly to avoid any leaks or damage. However, once installed properly, a wall kitchen faucet can provide years of reliable service.
In terms of maintenance, wall kitchen faucets require little upkeep beyond regular cleaning. However, it is important to periodically check for leaks and to ensure that the mounting hardware is secure. If any issues arise, it is best to call a professional plumber to make any necessary repairs.
In conclusion, a wall kitchen faucet is a great choice for those looking for a space-saving, versatile, and functional faucet for their kitchen. With a wide range of styles and finishes available, it is easy to find a wall-mounted faucet that matches your personal style and complements your kitchen design. While installation can be more challenging, the benefits of a wall kitchen faucet make it a worthwhile investment for any home.